After losing my iPhone 3 years ago, I lost hope of ever buying an iPhone again. I lived on with Nokia phones without access to internet, relying on my laptop for source of real time information. I adored smartphones, but despised Android because of lack of quality, security and consitency of buttons, features, app store. After buying my first Mac 4 years ago, my world has changed. I was into iPhone, Apple news, develpers who have their working environment on Mac. Linux is a solid server rather than a development environment. TextMate, iTerm and Alfred are the best applications. Adopting a Android phone seemed an unlikely fit.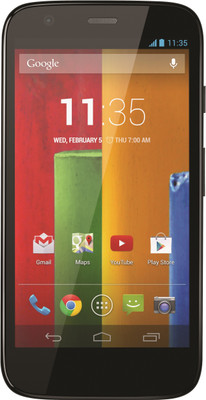 When the news about the Motorola phone) hit the Flipkart office, I decided to take a chance with Android. There was a general discussion on 8 vs 16 Gig models. One person mentioned that there was 11 Gig free space on his 16 Gig phone, then I decided an 8GB would be more than enough for my usage if ever I use it like I used my first iPhone. The Flipkart site was reported down on the launch day of Moto G. It was an exclusive launch on Flipkart where the site experienced higher traffic than it was provisioned for. I ended up placing my order with a 1 day delivery. Next day morning, I went to the delivery hub and picked up my phone. (Yes, you can visit a Flipkart's Delivery hub and pickup your item before they dispatch with the courier).
Flipkart launched the phone at 12am where the stock was ordered in minutes. There was a relaunch in the afternoon to take in preorders for both 8 and 16 Gigs. There was a review by a lost and frustrated soul that it was harder to book the Moto G than to book a Tatkal ticket.
The good: WhatsApp was the biggest hype of all. Most of my friends stopped using conventional email and started WhatsApp since its easier on the go and easier for group messaging. Remember the desktop client which had group messaging ? - Yahoo. You can send the same message to all members. The nicest and most annoying feature was a 'Buzz'. You buzz a person to get notice of the chat window. Well, Google killed it. From my perspective, WhatsApp is a group messaging app on the phone where Yahoo Messenger was to web. Obviously, this is a perspective from an eighty thousand feet view. There is security, scale, laws, hacking etc., Its worth $19 billion for Facebook because of the users and the ads and the content being flown around to understand people and direct advertisements.
Email is the normal thing you expect to be in touch with. Camera, pictures, Clock, Alarm, Contacts are the standard set.
Being new to the Bangalore City, Google Maps is the best feature I use, but it drinks up the battery like I consume water (Gulp, gulp, gulp and the bottle is left with only 50%). I started attending meetups - Docker and Ruby for now. The usability of few of the features is not as expected. I cannot find the address of where I am (I usually get lost) when I want to notify a cab or a friend. I wish it took information from my calendar to display where I need to go.
The Calendar, When you are in a meeting, you wont be disturbed with calls. You can configure and customize it so that you notify my caller over SMS or only get the calls from your contacts.
I keep in sync with the web with Feedly (after the homicide of Google Reader). ReadMill for ebooks. Asana for tasks or errands.
JustEat should remake their app. Meru has a nice interface, but if only we could send the location to the driver without the address information. That reduces the time of conveying the information a lot.
The Flip Cover is nice. You wont get your sweat on the phone especially in the summer or after hours of talking. My parents appreciated the clarity and hands free.
If you want a talking buddy, you can talk using 'OK Google'. I never got to talk to Siri.
The ugly: It does not have 4G. Not so great touch like Nexus 5. Moto G is 1/4th the price of Nexus 5 in India. Battery, well its only when I am using Wifi Networks or Location services.
I feel that I now moved to a smarter life. I only wish I had bought a smartphone sooner.
comments powered by

Disqus